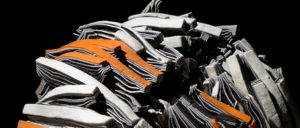 LAYERED FORMS
Workshop di Rafael Pérez
18 e 19 novembre 2017
Le iscrizioni chiuderanno il 28 ottobre 2017
Il workshop di Rafael Pérez si sviluppa attraverso l'apprendimento e la sperimentazione di due tecniche personali dell'artista. Nella prima parte del workshop, ci si concentra sulle qualità plastiche dell'argilla e le possibili forme e texture, testando la resistenza del materiale stesso attraverso interventi di taglio e percussione. Nella seconda fase, verrà presentata la tecnica di stratificazione, per la quale l'artista è celebre: lavori caratterizzati dalla sovrapposizione di numerosi strati di argilla, alternati tra loro da differenti pigmentazioni e spessori. Si affronteranno le possibili combinazioni di superfici e forme che questa tecnica offre.
Durante il workshop sarà illustrata la pittura su ceramica, oltre alla tecnica "vidriadas en blanco" ovvero pittura con colori sopra smalto su superficie smaltata.
"Il mio lavoro è un gioco che mi occupa e mi preoccupa. Cerco la bellezza, o meglio, uno stato d'animo o una visione che mi faccia trovare la sorpresa e l'emozione".
Rafael Pérez è un artista spagnolo di fama internazionale, il suo lavoro è conosciuto ed apprezzato in tutto il mondo. Diplomatosi in ceramica all'Escola Massana di Barcellona, è membro dell'Accademia Internazionale della Ceramica dal 2007. Il suo lavoro è stato esposto all'International Ceramics Competition di Mino e in numerose gallerie e musei nazionali ed internazionali.
Date e orari:
Sabato 18 novembre dalle 11.00 alle 13.00 e dalle 14.00 alle 18.00
Domenica 19 novembre dalle 10.00 alle 13.00 e dalle 14.00 alle 17.00
Prezzo: 290 euro + 5 euro tessera associativa (validità 12 mesi)
Info: corsi@officinesaffi.com – tel +39 02 36685696
Scarica qui il modulo di iscrizione
Deadline iscrizioni: 28 ottobre 2017
Posti limitati
LAYERED FORMS
Workshop by Rafael Pérez
at Officine Saffi in Milan 
18 – 19 November 2017
Entries close 28th October 2017
The workshop with Rafael Pérez comprises learning about two of the artist's personal techniques and working with them. In the first part of the workshop, participants concentrate on clay's sculptural qualities and its possibilities of shape and form, exploring the material's strength by cutting and impacting it. In the second phase, the layering technique, for which the artist is famous, will be presented: his works are hallmarked by multiple layers of clay, with alternating pigmentation and thicknesses. The various combinations of surfaces and forms offered by this technique will be examined.
In addition, the workshop will include a part dedicated to painting on ceramics. The artist will demonstrate the "vidriadas en blanco" technique, in which over-glaze pigments are used on a glazed surface.
"My work is a game that interests and involves me. I search for beauty, or rather a state of mind, or a vision, that enables me to discover surprise and emotion."
Rafael Pérez is an internationally-famous Spanish artist. His work is appreciated all over the world. He attained a diploma in ceramics at the Escola Massana in Barcelona, and he has been a member of the International Academy of Ceramics since 2007. His work has been exhibited at the International Ceramics Competition in Mino, and in many galleries and museums, in Spain and internationally.
Dates and times:
Saturday, November 18 from 11am to 1pm and from 2pm to 6pm
Sunday, November 19 from 10am to 1pm and from 2pm to 5pm
Price: 290 euro + 5 euro membership card (valid for 12 months)
Info: corsi@officinesaffi.com – tel +39 02 36685696
Download here the subscription form
Deadline submission: 28th October 2017
Limited places