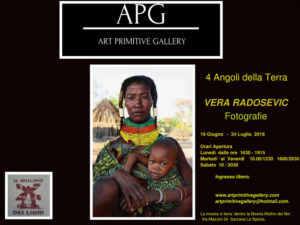 4 Angoli della terra
Fotografie
19 Giugno – 24 Luglio 2018
Frutto di una selezione attenta ai linguaggi, ai temi e al background di ognuno dei Fotografi selezionati di Reportage fotografici di popoli lontani e sconosciuti .
La mostra e' tenuta dentro la libreria Mulino dei libri
via Mazzini 34 Sarzana La Spezia
Curatore Marco Abbagnara
Linkedin https://it.linkedin.com/in/artprimitivegallery
Facebook https://www.facebook.com/ArtPrimitiveGallery
https://www.instagram.com/art_primitive_gallery/
Twitter @ArtPrimitiveGWeb site www.artprimitivegallery.com
E mail artprimitivegallery@hotmail.com
Vera Radosevic (1975) è una fotografa freelance nata e risiede a Belgrado, in Serbia.
La sua passione per la vita è la fotografia. Cerca costantemente personaggi primordiali, autentiche e pure nel mondo che ci circonda .
Personaggi autentici e primordiali con valori veri, stanno lentamente scomparendo nella realtà del mondo moderno pervaso dalla globalizzazione e dal profitto. Esperta nel fotografare culture nel mondo che sono spesso emarginate e rapidamente omologate in un mondo sempre più globalizzato.
Con la sua macchina fotografica tra le mani, vuole preservare questi ultimi valori e momenti dall'oblio del mondo.
Ha vissuto e viaggiato attraverso l'Africa per due anni e la sua ispirazione attuale deriva principalmente da quell'esperienza.
È laureata in scienze politiche per professione (Università di Belgrado) e le sue opere fotografiche sono apparse in diverse mostre fotografiche, pubblicazioni e presentazioni (l'ultima foto è stata dedicata all'Angola nel Museo di arte africana, Belgrado, Serbia e mostra fotografica al Museo Nazionale di Semberia, Bosnia ed Erzegovina).
Ha vinto il primo premio per il concorso fotografico VEA "Vivre en Angola", a giugno di quest'anno. Inoltre, fino ad ora, ha partecipato a diversi progetti legati alla performing Art in collaborazione con il teatro non verbale di Belgrado, in Serbia.
Scatto con Canon EOS 600 D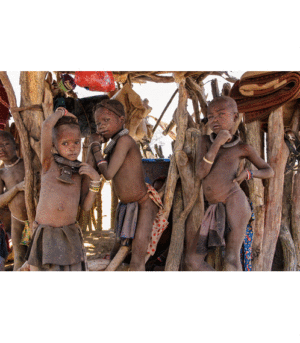 Vera Radosevic (1975) is a freelance photographer born and based in Belgrade, Serbia.
Her life passion is photography. Searching constantly for primordial, authentic and pure in people and in the world around us. This authentic and primordial as true values, slowly disappearing into the realities of the modern world pervaded by globalization and the collision of profit. Enjoying photographing cultures in the world which are being often marginalized and rapidly homogenized into an increasingly globalized world. With camera in her hands, she wants to preserve these values and moments from oblivion.
She lived and traveled through Africa for two years and her current inspiration mostly derivate from that experience.
She is graduated political scientist by profession (Belgrade University) and her photography works have appeared in several photography exhibitions, publications and presentations (last photo presentation was about Angola in the Museum of African art, Belgrade, Serbia and photo exhibition in the National Museum of Semberia, Bosnia and Herzegovina).
Won the first prize for the photo contest VEA "Vivre en Angola", in June this year. Also, until now, she participated in several projects related to performing art in cooperation with non-verbal theater from Belgrade, Serbia.
My Camera Canon EOS 600 D